Caloundra Community Bank Branch Sponsor Lights on the Lake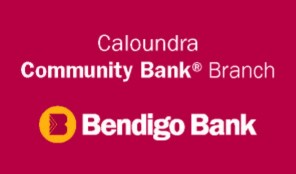 Currimundi Catchment Care Group and the organising committee for Lights on the Lake community festival welcome our major sponsor The Caloundra Community Bank® branch of Bendigo Bank. Funding from the Bank will add to the support from Sunshine Coast Council Festive Season Grant to help us stage this very popular, free, festive season event for the community surrounding Currimundi Lake. The Caloundra branch will sponsor the main stage at the event, providing a safe and accessible venue for our many volunteer entertainers to perform. As well as financial support, Caloundra Community bank Branch staff will join us at the event and help out our dedicated volunteers.
More information about Lights on the lake 2014 here http://www.currimundicatchment.org.au/lights-on-lake/ .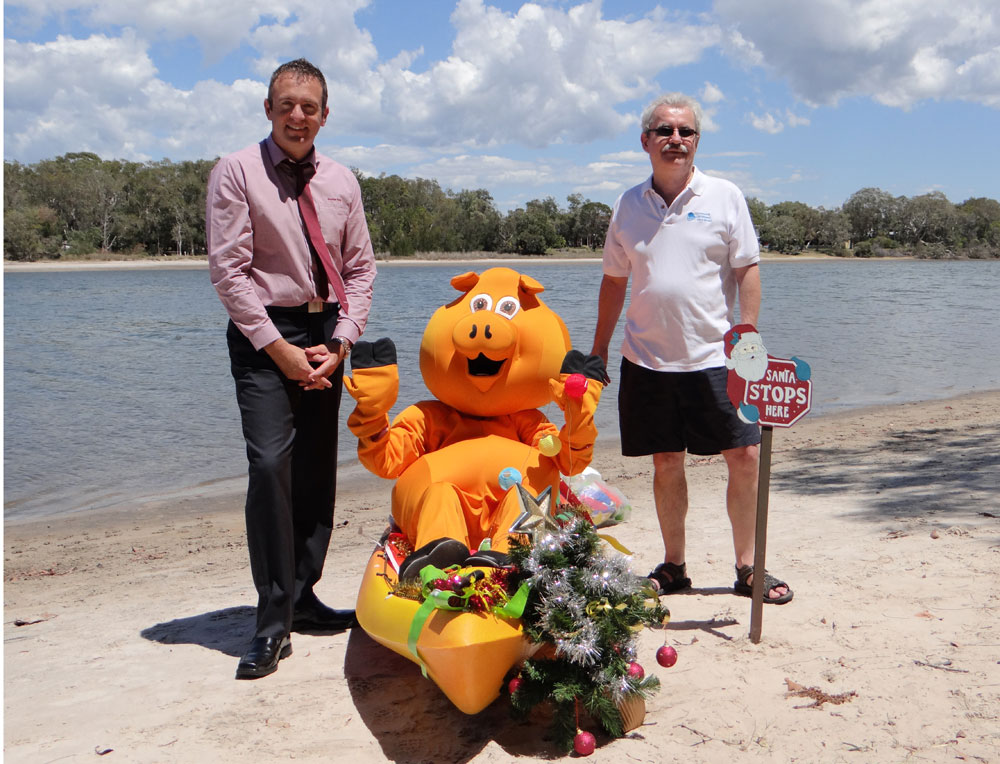 Lights on the Lake organising committee co-chair Tony Moorhead met with then branch manager Troy McDonald and Bendigo Bank mascot "Piggy" at Currimundi Lake to discuss this year's festival. Piggy seemed more interested in decorating a kayak and couldn't wait for the water parade to start. Only seven weeks to go Piggy!
We are pleased to pass on introductory letter from Caloundra Community Bank Branch of Bendigo Bank to the Lights on the lake community:
As a proud sponsor of the upcoming Lights on the Lake Christmas event we thought it was a great opportunity to get to know a little bit more about each other. Our branch families look forward to meeting you and your family on the shores of Currimundi Lake for what we are sure will be another very special Christmas community event on December 7. In the meantime, with your permission, we would like to share a little bit more about ourselves.
 Caloundra Community Bank® branch of Bendigo Bank is owned by Bendigo and Adelaide Bank Limited, Australia's fifth largest Bank. We are a full service bank offering all the products and services that you would receive anywhere else.
 But we're bigger than that – and in more ways than one. The Caloundra Community Bank® branch of Bendigo Bank is an integral part of the Currimundi, Caloundra and Kawana community because all our profit is reinvested back into supporting local community groups and events like your Lights on the Lake. You could say, we're run by the community as it is locals who decide where the profits are spent. This is one of our biggest points of differences.
 So far we have contributed over $270,000 directly back into the local community through our support of organisations such as the Caloundra Junior Rugby Union, Paraplegic Benefit Fund, Queensland Air Museum, Caloundra Community Services of the Aging, Caloundra Chorale and Theatre Group, Kawana Junior Rugby League, Caloundra Seahawks Hockey Association, Caloundra Community Centre and the Caloundra Triathlon to name just a few. We look forward to growing our support locally as work together to make this a safe and happy place to live.
 And here's why our relationship with you is so important. Bendigo Bank has been named one of Australia's Most Trusted Brands in the 2014 Reader's Digest awards. Our main retail brand was Highly Commended in the finance category and placed second, following up its wins of 2010 and 2011.
 Trust starts with service and this recognition reflects our people's focus on producing the best outcomes for our customers. It also reflects our contribution to the prosperity of the local Currimundi, Caloundra and Kawana community. Gaining people's trust is all about the way we interact and this is a big vote of confidence in the way we go about things.
 While we hope to see you at Lights on the Lake, we also invite you to come and say hello at the branch 99 Bulcock Street Caloundra. Mention you read about us in the Currimundi Catchment Care Group newsletter and experience first-hand what it's like to be a welcomed by a Bank that is truly local and has your best interests at heart.
 Caloundra Community bank Branch
Bendigo Bank