Community Water Monitoring Program Coming to an End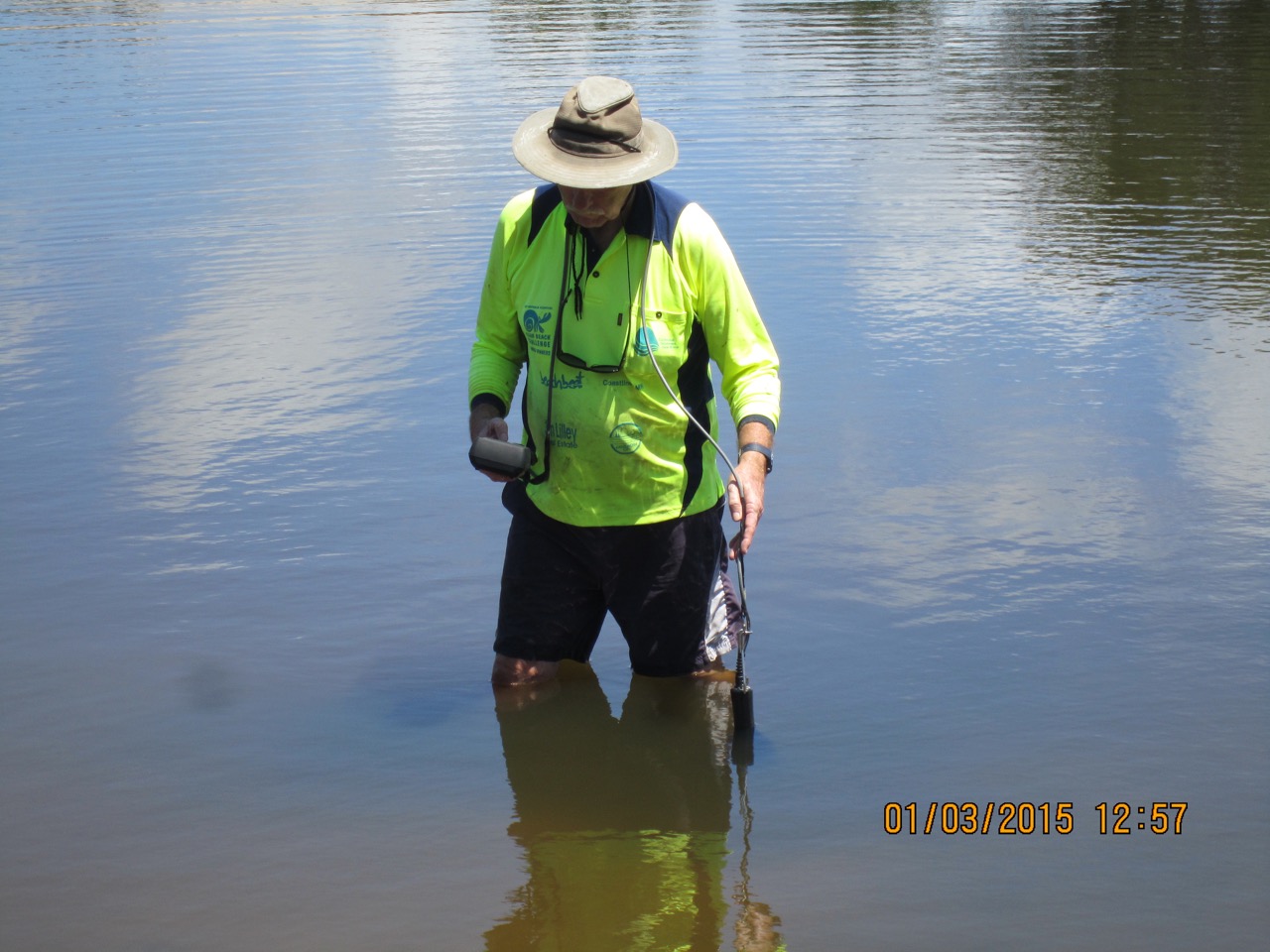 After 14 years, 45 volunteers and thousands of water quality tests, CCCG have decided it's time to end our local water monitoring program. In these times of scarce volunteer resources we are shifting our focus to other activities. Council and others will continue to monitor water quality. We would like to sincerely thank all the volunteer community members who have taken part over the years. Sunshine Coast Council who have funded and provided support for the program for many years, David and Jenny Allan who have been the backbone of the program for all 14 years and Tony Brangwin who took over as coordinator for a year.
Read the full story below.
In 2003 a group of 20 local residents volunteered to begin a monthly water quality monitoring program in Currimundi Lake, creeks and canals. Lake Kawana was added to the program in 2006 and Lake Kawana canal in 2013.
The Caloundra Council and then the Sunshine Coast Council strongly supported the program with equipment and an annual grant.  More importantly was the personal and professional support from the members of the Waterways Team who shared with us the same concern and commitment to improving the health of the waterways and ecosystem.
Volunteers learned to use a Horiba to measure water quality indicators: temperature, pH, electrical conductivity, turbidity, dissolved oxygen and salinity.  Results were collated and for a number of years were stored in the Unidap online database and reports presented at meetings of the Currimundi Catchment Care Group and at Training Days.
Over the life of the program there have been 45 volunteers.
When some volunteers needed to leave the program, others took their place and their strong interest in the water quality of the Currimundi waterways spurred the program to continue for 14 years.  Other programs evolved from community interest in the waterways – building coir log retention walls along eroded banks, fish surveys along the lake and canals, seagrass and mangrove mapping, bird surveys, the 6 Knot-No Wash public education campaign, Clean Up the Currimundi, planting to sustain and improve the ecosystem.  Other national groups have viewed these programs on our website and based their environmental actions on what we have achieved.
Some monitors undertook certificate courses in water quality analysis.  Some spent many hours learning how to calibrate equipment on a weekly and monthly roster.  Each new volunteer was trained to use the Horiba and Annual Training Days commenced in 2006 to update skills and knowledge.  Time for testing, training, calibrating the Horiba, ordering chemicals, collating and reporting, added to more than 350 hours each year, all given freely.  It is certainly a measure of dedication that 12 residents who started with the program are still monitoring or calibrating after 14 years.
In April the CCCG Management Committee decided to wind up the water monitoring program at the end of the financial year.  The long-serving Water Monitoring Coordinator, David Allan (pictured right), had previously indicated his plan to leave the role.   Other key issues are that funding to support community access to the Unidap database was withdrawn about 18 months ago without a replacement database in place, and Council now contracts other agencies to monitor water quality at specific sites in the catchment.  There is therefore no longer a need for the community based program to continue.
There will be a final workshop for all past and present water monitors on Friday 30 June to review all the achievements and projects undertaken over the past 14 years.  Currimundi Catchment Care Group is enormously proud of the achievements of the program.  Water monitors have both given and learnt a lot about the essence of the Currimundi catchment as they acted as observers and recorders along the many waterways.  It is also fair to say that there have been many benefits to the ecosystem and the community that enjoys it.
David Allan, Water Monitoring Coordinator
Some background
The program has been a great example of citizen science.  Enormous thanks go to David and Jenny Allan in developing and coordinating the program over the past decade, and to every individual that has contributed.
The Currimundi catchment, like any natural system is a complex mixture of interconnected characteristics. It experiences a constant process of change caused by variations in climate, freshwater flows, natural disturbances and human activities.
It has experienced extensive urbanisation over the last 15 years resulting in significant impacts on riparian zones, wildlife, environmental flows, stream bank stability and sediment transfer into the waterways. Very few studies have researched environmental issues of the catchment. The fish surveys conducted in 2013 and 2015 indicate that there has been an increase in species as compared to earlier studies. The mangrove mapping and monitoring conducted by the Currimundi Catchment Care Group provides baseline data for long-term studies of mangroves, salt marsh and stream bank erosion. So too does the baseline study on seagrass in Currimundi Lake.
There is yet to be an analysis to assess the costs, benefits and risks associated with engineering interventions to manage the condition of the lake. While studies have researched fish populations in the catchment there is a need to research change in vegetation communities. The work of fauna watch has produced hard data on bird species in various parts of the catchment which suggests a decline in bird species and numbers.
Many people look at the catchment and see cosmetic changes that they believe need to be done to make things look more aesthetically pleasing while their neighbours see environmental issues that have to be addressed to protect and conserve the environmental values of the catchment.
A major challenge is maintaining a dynamic, resilient and functioning ecosystem and balancing this with social and economic demands.
The environmental clock of the Currimundi catchment cannot be turned back but action must be taken so that water quality cannot get any worse than what it is now and, in fact, sound stormwater management practices and community education may help it improve.
 List of Water Monitors
| | | | |
| --- | --- | --- | --- |
| Family Name | First name | Family Name | First Name |
| Alexander | Bill and Rhondda | Holder | Dave |
| Allan | David and Jenny | Hume | Bill |
| Andrews | Joan | Jenkinson | Lorraine, Bob and Kristie |
| Bartier | David | Jones | Doug |
| Blake | Eloise and Ron | Jones | Kerryn |
| Block | Fred | Kearney | Paxton |
| Boland | Terry | Kesby | Jan |
| Brangwin | Tony | Lynagh | Nev |
| Browning | Heather | Martin | Rhonda |
| Bugden | Michael | Rolton | Phil |
| Burnett | Ron | Savage | Greg |
| Butler | Merv | Schultz | Coral |
| Crane | Dot and Errol | Skeats | Cheryl |
| Corley | Jessica | Smith | Graham |
| Davidson | Leigh | Tierney | Bev |
| Eather | Brett | Tierney | Kyle |
| Fyfe | Bob and Lesley | Wilford | Ed and Pam |
| Fitzgerald | Kieran | | |
| Gallard | Brian | | |
| Gillick | Barry | | |
| Hicks | Bronwyn | | |