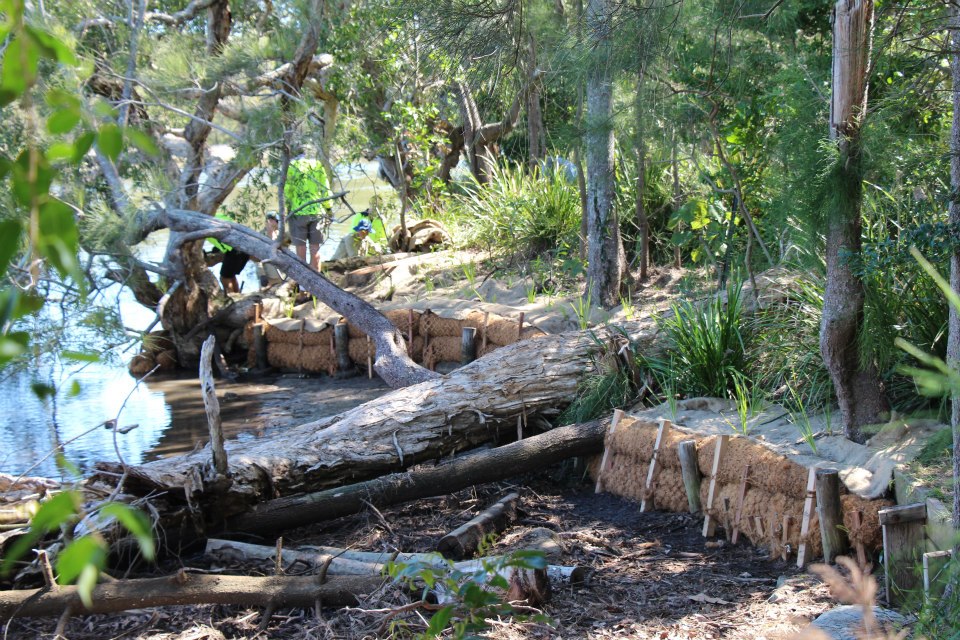 Another 90 metres of coir log wall – April 2013
Another 90 metres of coir log wall was added along the northern shore of Currimundi Lake in Noel Burns Park, Wurtulla on 22 and 23 April 2013 by Currimundi Catchment Care Group, with the help of Sunshine Coast Council, and community volunteers.
See how we do it. Watch our YouTube video.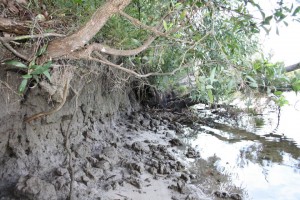 The wall is the continuation of an erosion control strategy to stabilise the bank, limit erosion and filter water flowing from the park into the lake. Some areas of the bank have been severely undercut by natural erosion, increased water flows from urban development and wave wash from speeding boats. In some places tree roots are exposed and many of the beautiful native trees along the water's edge are at risk of collapsing into the lake.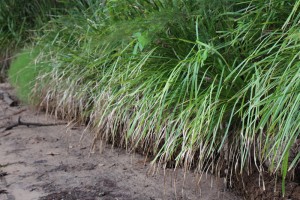 The first 60 metres of wall were constructed in 2009 and extensions in 2011 and 2012 extended the wall to 150 metres. With this year's addition, we are making real progress toward protecting the most vulnerable areas in this small part of the at-risk banks of the lakes and creeks in our system.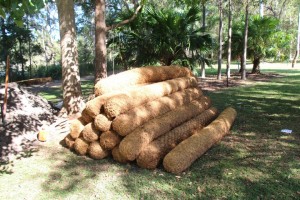 Coir logs are made from coconut fibre and are light and flexible.This makes them ideal for moulding around the contour of river banks. The walls are built by stacking the logs on top of each other and using wooden stakes to hold them in place. The area is then back filled with soil, covered with geo-fabric to prevent the soil washing in to the lake, and planted with native bank stabilising plants like Lomandra and native trees such as Casuarina. The walls collect sediment run-off and allow native vegetation to grow, protecting the banks and reducing the risk of further erosion.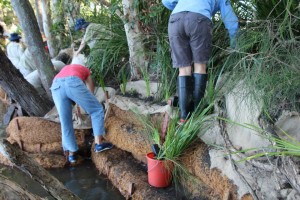 CCCG President Tony Moorhead said the group was thrilled with this year's result, with a planned three day's work completed in just one and a half days. "This shows that dedicated volunteers working together can make a real difference to our local environment. You don't need special skills or super strength. You just need to be willing to give up a few hours of your time and put in the effort
CCCG wish to thank Sunshine Coast Council who provided the funding for the project through an Environment Community Partnership with CCCG, tools, supervision and several volunteers who worked alongside CCG members.
CCCG Project leader David Allan commented "It was tremendous to see SCC staff working so enthusiastically with our volunteers. They all pitched in and helped us finish the project in record time, and importantly, everyone had fun doing it!"
We will be back in 2014 to build more.
You can visit and inspect the walls in Noel Burns Park from a limited number of access points to the lake from the walking path in the park, but please don't climb over vulnerable sections of the bank or trample newly planted native plants and trees. Look for the sign on the post and rail fence about half way along the park.