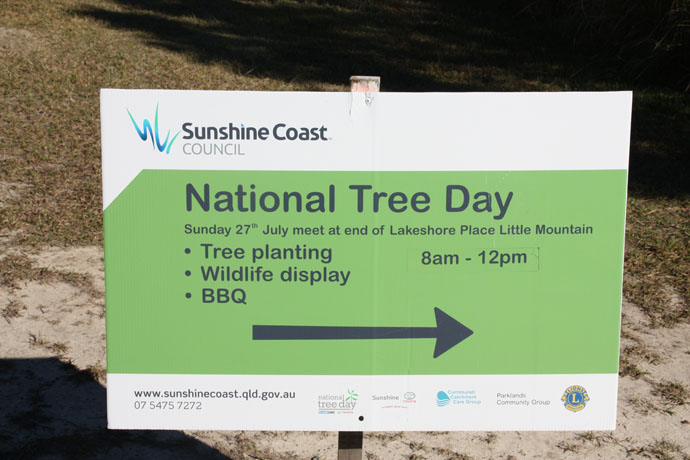 CCCG are proud to be part of the team organising a community planting at Bancrofts Red Gum Reserve, Little Mountain. This year we had 180 people come along and do their bit for their local environment. We planted 2,200 native trees and plants. Together with Parklands Community Group and Sunshine Coast Council, we have been planting in this area each National Tree Day for several years now with the goal of returning the native vegetation and habitat for wildlife to this once degraded grazing land. It's a wonderful example of ow families and locals can get together and make a real difference – and have fun too.
Thanks to CCCG for the sign-on tent, Parklands Community Group, Rhonda Martin and the wonderful Sunshine Coast Council staff who organised such a great event, Sunshine Coast Toyota for the give-aways and support, Lions Club of Caloundra for the delicious sausage sizzle, Extreme Beans for the coffee and drinks, Geckos Wildlife Presentations and most importantly all the families, neighbours and caring people who came along to do their bit.
Here are some photos from the day on our Facebook page.
If you don't use Facebook, you can still see the photos here.