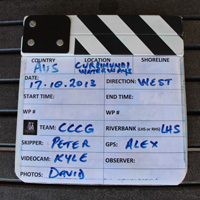 Mangrove mapping in the currimundi Catchment
On Thursday 17 October 2013, four members of the Currimundi Catchment Care Group set out in a tinnie to map the locations of mangroves in Currimundi Lake and creeks. The primary aim of this project is to determine baseline data on the locations of mangroves, their physical characteristics and the diversity of species. Follow up studies will be undertaken to examine changes in the growth of mangroves, their distribution and mangrove health.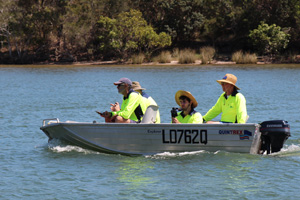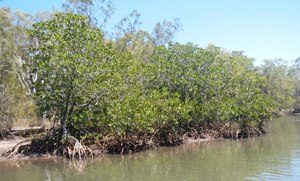 Two members of the group recently participated in a training program with MangroveWatch who developed the mangrove mapping methodology.
A video camera was used to film the entire shoreline of Currimundi lake and Currimundi Creek north and south arms recording the presence of mangroves and other vegetation. GPS readings were taken at various points along the waterways and still photographs were taken of many physical features of the foreshore and waterways.
The initial video will be used as baseline data and follow up videos will be analysed by university researchers and students to track changes over time.
Read more about why mangroves are important and what types of mangroves we have in the catchment in our project update here.