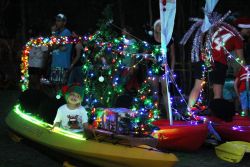 Lights on the Lake Community Festival – Sunday 3 December 2023
We are excited to advise that planning for the 2023 festival is uderway with a view to hosting the Lights on the Lake Community Festival on 3 December 2023 this year between 4 – 8 pm in Crummunda park, Coongarra Esp, Wurtulla on the banks of our beautiful Lake Currimundi.
If you are interested in helping out this year, drop us an email at lightsonthelake@currimundicatchment.org.au
This family-friendly event has been very popular with the local community in past years. There will be lots of fun with the highlight water parade of decorated and lit up kayaks and canoes, entertainment on stage, feed stalls, supervised children's arts and crafts, Santa and more. Bring a picnic rug, grab the kids, family, friends and neighbours and join us for an evening of fun and friendship. Read more here.